The Players
…who done what when
---
Steve Quinney (lead vocals) has also been call The Muncher. (don't ask)

Before Cirkus, he was lead singer with Kraun Zeller, Jubal, then 10th Avenue. (And a bunch before that we don't even know about). Went on after Cirkus to form a band with Squire (see below) called The Suspects. Currently, he's running a successful dj/entertainment/event business based in Raleigh, NC, and regrets not having time to play live any longer except of course for the occasional Cirkus reunion.

His latest passion is being a political provocateur, assaulting politicians of all affiliations with his caustic wit and in general pissing people off, something he's always been very good at when he sets his mind to it.

After a sometimes stormy, on again off again marriage to Shelley, and after each swearing they would never have another go at it, Steve and Shelley are in fact together, hopefully for life and although generally considered too cynical to believe in happy endings, Steve declares that he's happy, content and feels blessed to be sharing his life with his soulmate.

Steve has five wonderful children and a grandson, who is a featured guest, playing guitar on Cheating The Reaper and has welcomed a GREAT grandson, Owen into the line of Quinney men. For his first birthday he and his grandmother Heather got him drums. His mother was not amused.

Currently and forever, King of Never Never Land…And he's STILL the Grampsfather.
---
Kelly Craven (drums, waffles) also known as Phooey, The Phoo, or just Phoo


Before bands were Kraun Zeller (with Steve Quinney) and Jubal (with Steve and Randy Lee); After bands were PG-13 and Jon Byrd and Abandon Reason.
(PG-13 included lead vocalist Jesse James Dupree, of Jackyl fame, and guitarist, John Hayes. John, who later joined JJD, Jesse's solo project, and is a current member of Mother's Finest. PG-13 also included Greenville, NC, resident Chick Chamlee as keyboardist.)
After having been assimilated for many years into the Evil Borg of Redmond, WA, Kelly has escaped its grasp and is now happily retired back home in NC.
---
Randy Lee (bass) Pepsi and pork rinds—Breakfast of Champions

Played with Ezra Storm and Jubal prior to Cirkus.

The answer to the question posted here for ages ("You out there Randy?") is a resounding YES! He is indeed out there and still living jusy outside of Greenville. Randy remains in full possession of his considerable bad-ass bass skills and is, in fact, the one and only God of Thunder. One of the truly good guys, we are really, really glad we found him at long last.
---
Mike Phlegar (guitar) Olan Mills photographer

Sometimes known as Foghat. Has been known to send out Christmas cards with other peoples baby pictures in them (really!). The babies were so ugly that the parents wouldn't buy the pictures so they were left at Olan Mills to be thrown away. Why waste a perfectly good print? ("Phlegar used to tell me that he loved playing minor chords up the neck, because he could stick his middle finger out and give Mason the bird." Don Non)

We heard he was living in Arizona and still working for Olan Mills, but. seems like we were misinformed. At least after all these years we know how to spell Phlegar.
---
Don Parker (guitar) also known as Don Non

After leaving Cirkus in the middle of the night, he went on to form a band called Baby Blue, who owned their own nightclub called…Baby Blue! (We could say something really snide here…but we won't.) His happiest moments included rubbernecking at car wrecks.

Currently living in Atlanta, working as Director of Information Technology for an affiliate of a well known phone company. Still playing guitar after all these years with a band called Sling A Cat. (Somehow, we find that surprisingly fitting!)
---
Bob Stallings (guitar)
Replaced: Mike Phlegar
We tried to think of some snappy quote, but Bob wasn't in the band long enough to leave a lasting impression. This is not necessarily a bad thing.
Previously formed Tera Nova, whose members went on to play with Steve Morse (bassist Jerry Peek), Glass Moon (keyboardist Dave Adams), and other better to well known bands.
A few months after leaving Cirkus to join Razzmatazz, Bob was in an auto accident that left him unable to speak and walk without major rehabilitation. He slowly recovered from the speech loss and was able to relearn walking, fortunately, but he never regained the memory of being a guitar player. The last we heard he had taken up the guitar again, and was a very quick study. We wish him all the best!
---
Gavin Frisbee (guitar) Yes, that's his real name!

Replaced: Bob Stallings

After Cirkus, put together a Rod Stewart tribute show (Ricky Smith) then became a gay activist in Florida. (That's what we heard anyway. We wouldn't intentionally start unfounded rumors of this nature you know. Gavin if your are out there…) Yes, he has a funny name and really looks a bit like young Rod Stewart to top it off. His parents are florists—yes, Frisbee Florist in Fayetteville, NC.
(We're not making this up, we swear!)
---
Sean Carmichael (guitar) "Real men use Marshalls"

Replaced: Gavin Frisbee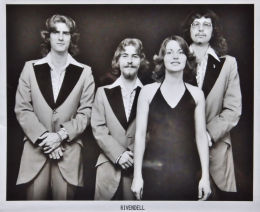 Prior to Cirkus, played with Rivendale and then The Jamie Hoover Group ("a nice little 4 piece orchestra"—Ted Kemp, booking agent <shudder>) Jamie, later being of The Spongetones and The Van deLecki's fame, among others, has become a very successful record producer.
He married Wally, his best friend and soulmate, on December 22, 1982. Together they raised two wonderful daughters, Erin and Ryan, and were later blessed with two beautiful granddaughters, Isla and Clara.
After many years in jobs he tolerated, he was finally able to retire in 2016 and was looking forward to being able to travel, record music with his "brother" Kelly and spend time with his family.
Unfortunately, Sean left us suddenly on January 22, 2019 from heart failure. Beloved son, brother, friend, husband, daddy and papa…you may be gone from this earth but will continue to live on in our hearts and memories always.
---
Bob Knight (guitar) "You know what I mean, man? You know what I'm talking about."

Replaced: Don Parker

Had previously played with a band called Sassy, and also laid claim to playing with Vicki Sue Robinson (of "Turn the Beat Around" renown) as well as beginning his Cirkus life as the singing soundman.

We've reconnected with Bob after a lot of years wondering where he was. We searched and searched on google but YOU try putting in "Bob Knight" as a criteria on google. Thousands and thousands of hits for some basketball coach and none whatsoever for our buddy, Bob. He is living in the Orlando area, currently working for Sam Ash (stop and and tell him we said "hey!"), just got married to his long time sweetheart, and sat in with us at our July 2012 Southland Ballroom show. Welcome back to the family, Bob!
---
Eric Bennett (bass) also known as WB or Walbo (trust us - you really don't want to know)

Replaced: Randy Lee

We know Eric played in one or two bands before Cirkus but we don't remember the names as well as a couple of bands after Cirkus: Touch with Jack Briggs on guitar (yes, THAT Jack Briggs of Brigg's Guitars) and a stint with the mighty Sidewinder.

Eric met his lovely wife Pam during his Cirkus days and they are married to this day. Eric's motto? "Play 'A' and dance". He is now retired from a local cable company and has been doing some recording with brother Rodger and niece Jennifer as "The Bent Souls". Look 'em up on youtube…good stuff!

Shared haircut and parents with Rodger.
---
Steve Long (guitar) also known as WW (speculate all you want, but we're not telling)

Replaced: Bob Knight

After Cirkus, he went on to form with a band called Diamonds which featured the former lead singer from Razzmatazz, Brent Kleinville. (Bob Stallings had been a member of Razz, also.) Married the lovely Brewer sister, Ann, from Winston-Salem (We called her Spot, don't really know why, except it may have something to do with Moose, a former girlfriend of Steve's—We had nicknames for scads of folks that we knew that were generally descriptive of the person they were attached to, but that "rule" didn't apply to Ann. She was FAR from being, er, dog-like.). Moved to Ft. Lauderdale for a while, then found his way back to Charlotte where he apparently did a stint with The Vandals (see the Carowinds page) as their bass player before joining his current band, Too Much Sylvia. 'The Car'—"Look, Ma, it's a giant can of Orange Crush!"—is most likely still going.
---
Rodger Bennett (guitar) "Just call me Big Daddy"

Replaced: Steve Long

There was another part to this nickname, but in trying to keep this site G-Rated, we're leaving that out. After leaving Cirkus, he went back to playing with Sidewinder and appeared on Star Search — Sidewinder, from whom we had stolen him earlier. Rodger is retired from being "Inshawnce Man!" and is recording with brother Eric and daughter Jennifer as "The Bent Souls". Again, look 'em up on youtube…good stuff! He surfaces occasionally for Sidewinder shows and the occasional hookup with Cirkus as well as having sat in at the 2013 Michael Gardner Foundation benefit with Rock of Ages which consisted of our very own Steve, Randy and Sean plus Dave Cook and Margaret Moorefield.

Shared parents and haircut with Eric.
---
No Body (guitar)
Not Replaced: Rodger Bennett
When "Big Daddy" left, we eventually decided that there was no need to replace him. Sean took over all guitar duties and we went on as a power trio (we're not counting Gramps, but in some circles vocalist are considered musicians).
---
Squire Lilly (bass) Yes, that's his real name, too!

Replaced: Eric Bennett

After Cirkus, he and Steve formed a short-lived band called The Suspects. Went home afterwards, went to college, and became the city planner for a large major city in the Southeast. Sadly, we lost Squire on April 19, 2012 after he waged a courageous battle against cancer. Rest in peace, Squire.
---
Absolutely Nobody
Not replaced: Everybody
Cirkus played their last official date on March 6, 1983
at Casablanca in Winston-Salem, NC
…except for The 2001 Fat Bald and Ugly Tour and The 2003 Reunion Concert. (well…that was the plan)
---
Until Now We had so much fun we didn't want it to end.

Replaced: See below

The 2003 Reunion went so well and Cirkus had so much fun that the boys decided to pick up a few more dates. Since not everyone could make the gigs alternate arangements had to be made.
---
Steve Quinney (vocals) Yes, he's back!

Replaced: Himself.

Back for the Reunion 2003 Concert and the latest incarnation of Cirkus!

It's as if he was never gone!
---
Rodger Bennett (guitar) Yes, he's back!

Replaced: Himself.

Slacker couldn't make the Reunion 2003 Concert,
but he's whole hog up for the latest incarnation of Cirkus!

It's as if he was never gone!
---
Randy Lee (bass) Yes, he's back!

Replaced: Himself.

Back for the Reunion 2003 Concert and the latest incarnation of Cirkus!

It's as if he was never gone!

(Can you see a pattern here?)

Randy is also shaking the halls, cracking the walls and providing the balls for Rock Of Ages along with Steve. Armed only with his bass, it is generally believed he could lobotomize the entire Middle East and Afghanistan with a few choice notes…thereby ending the war on terror.
---
Jason Patterson (drums) A long time friend of the bands takes over the tapping.

Replaced: Kelly Craven

Formerly of both Nantucket and Cry Of Love, Jason is one of the best drummers from the area…and he wields a mean cowboy hat!
---
Dave Cook (drums) Enjoys waiting for the Chicago Blackhawks to win the Stanley Cup.

Replaced: Jason Patterson

Chicago boy goes south, via Canada. Strongly denies any involvement with the Wilson sisters from Heart. (We bet…come on Dave—what's the real deal?)

Currently, Dave provides the earth shaking drumming for local Raleigh favorites Automag and joins Steve and Randy in Rock Of Ages.
---
The Core …of course…

Replaced: You MUST be kidding!

Phoo and Sean never really left. They simply couldn't be there all the time. For that matter Steve was never gone at all and Randy…what can be said about Randy? It's wonderful to know these four will always be CIRKUS.

It's as if we were never gone!