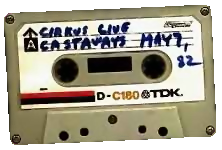 All cirkus audio has been recovered from old cassettes of very questionable quality. Therefore, the sound quality is less than optimal and in most cases is very poor. Considering the quality of the original tapes…well, lets just say the results are better than we could have imagined. We are happy campers.
Only the Carowinds concert was professionally recorded, but the original master tapes and final mix of that concert have long vanished, leaving us with just a preliminary test mix cassette — a very lucky find.
The rest? Well…the range is horrible to almost acceptable — you be the judge. It's amazing what you can do with a few good audio tools these days.
We must give much thanks to all of our soundmen and friends. Without their spontaneous actions most of these recording would not exist. Thanks folks!