Come Friday, July 20, 2012, we were primed and ready to kick some major ass along with a few friends and family.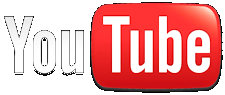 We set up in the Southland Ballroom Friday afternoon during a thunderstorm which proved to be prophetic regarding the thunder that was to be unleashed that night. We took the stage to the strains of the "Imperial March" from Star Wars and commenced to kicking ass and taking names just like there had not been 30 years between now and our heyday. Along the way, Jay "Snakdaddy" Rusnak joined us for some Judas Priest covers. "Metal Gods" led to Chris Craven, Kelly's son, joining us plus Jay for a Judas Priest medley of "Painkiller", "Electric Eye" and "Hell Bent for Leather". Suffice it to say that the future of rock and roll, drumming-wise, is in extraordinarily good hands. We have no doubt that you'll be reading about Chris Craven in Modern Drummer magazine before too many years have gone by.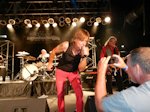 We played some stuff that harked back to former bands that Kelly, Steve and Randy had played in prior to Cirkus. "Rebel Rebel" by David Bowie went back to Kraun Zeller — an astounding 40 years prior for Steve and Kelly. A medley of "Perpetual Change" by Yes and "Red" by King Crimson honored the memory of Jubal, a progressive rock band that included Kelly, Steve and Randy. Then, our jam of "Young Man Blues" which was also a cover by The Who, paid tribute to Sean, Randy and Kelly's roots. We all learned how to play from The Who, amongst other bands of that era. We of course played some classic Cirkus covers such as AC/DC and Cheap Trick and many of the classic Cirkus originals.
We were joined by Bob Knight, a former member of Cirkus, for several tunes. It was good to reconnect with Bob after all these years.
All in all, we had a great time at a great venue with all of our friends and family. Steve vowed that this was the last time this band would perform in public together as Cirkus and we think that we went out the same way that we lived during our heyday — kicking ass and partying like there will be no tomorrow. We had a great time.
Many thanks go out to John "Joker" Wetmore and Jerry Coston for running lights and sound respectively and making us look and sound as good as ever. Thanks to Scotty Brownell and the Southland Ballroom for letting us play, What a great sounding and looking room. Raleigh should be proud to have this venue in their city.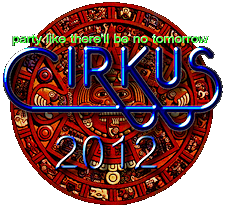 Finally, thanks to our fans, friends and family. We've had one hell of a good time for the last 34 years (1978 — 2012). Without y'all, we never could have done any of this. We truly enjoy playing together and the magic that happens when we get together can't be denied…we truly enjoy each other's company…we are brothers in every sense of the word. We thank our families for understanding that this is who we are and that we have to do this. We thank our fans who have faithfully come to see us all these years. Without y'all coming to see us, we'd have never been able to continue to get the gigs and play for y'all. Finally, we thank our friends, and ALL of you are our friends. We've been fortunate to meet y'all and maintain our friendships all these years and after all, what good is life without family and friends? We are blessed to have been able to play with each other and have all these friends, fans and family all these years. Don't think that y'all have seen the last of us…just maybe not in this context.