---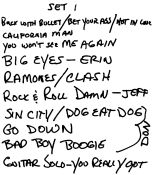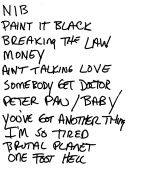 When we first decided to do this show, naturally our thoughts turned to "but…whatíll we play?" We solicited suggestions from everybody involved eventually coming up with a list of about 40-45 songs. Then, the list of songs was put on a private web site, complete with recordings where we could hear them, and everybody voted on what they wanted to play. Once we had a consensus of about 20 songs that we all agreed on, then we had the outline of the setlist.

Talking amongst ourselves (via e-mail…man, we wish we had the internet 20 years ago!), revealed that there were a few newer tunes that we wanted to cover as well. Wanting to be as heavy as humanly possible, aside from the fact that these are tunes that we really like and if for no other reason than to show the youngsters how heavy is supposed to be done, we settled on NIB by Black Sabbath, Brutal Planet by Alice Cooper, and Paint It Black by the Rolling Stones.

Finally, cdís were made for everybody with all the tunes on them and distributed so that we could all learn our parts (hey, itís been 20 years…) and could be ready to go once rehearsal week rolled around.

There were a few changes to all of this during rehearsals—we discovered that time hadnít necessarily been ALL good to us over the years and there were a couple of tunes that weíd planned on playing but, for various reasons, we just didn't sound as good as we had invisioned for whatever reason. While rehearsing and jamming, though, there were a couple of other tunes that jumped out at us saying "play me, play me!" that we just couldnít resist. So, it all evened out.

During that actual performance we had to drop Ainít Talkiní Bout Love, Somebody Get Me a Doctor and Youíve Got Another Thing Coming from the actual playlist due to time constraints (it was getting very late, or early, depending on your point of view), but the final results can be seen and heard on the Cirkus Live at the Lincoln Theatre DVD (coming soon…we hope).